flat heel safety boots are popular and made of a variety of models and if they are manufactured of cowhide leather, they are more valued and before you buy this kind of special shoes you must pay attention to some point:
What you read in this article:
As previously said, the most significant and primary purpose of shoes is to protect the feet from injury. However, many shoes nowadays cause major foot ailments, and the reason for this is the selection of incorrect shoes. In reality, picking an incorrect model causes substantial harm to your feet as well as a variety of discomforts such as big toe deviation, corn development on the foot, big toe rubbing, ingrown toenails, and hammer toe in the foot.
be produced These hassles make selecting the proper shoes extremely significant and vital for individuals, and in addition to looking and attractiveness, comfort and durability of the shoes are also key requirements for clients.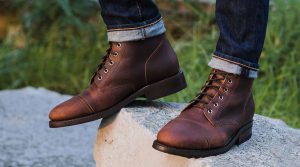 Now, you may be wondering what factors should be considered while purchasing these extensively used and necessary goods in order to avoid these problems. In truth, the most significant elements and criteria to consider while purchasing this product are:
Buy shoes in the evening because your feet are at their best in the evening.
As you get older, your heel becomes larger, so make sure to check this item every time you go shopping.
Women should avoid wearing shoes with heels higher than 5 cm.
The second thing to consider is that the shoes you purchase must be fit and size in the heel and toe region.
Try on both the left and right shoes at the time of purchase. Because many individuals have varied-sized feet.
Take note of the toes' comfort and bending in the shoes.
cowhide leather Safety boots
if you up to purchasing cowhide leather boots don't forget to check some information and a good quality cowhide leather safety boots are defined with this specification below
Non-Slip, Wear-Resistant, Breathable, Wearable, Comfortable, Heel Boots, Lace Up are some of the features of these safety boots. The sole is waterproof, flexible, and designed to be used both inside and outdoors.
We want to make it lightweight and comfy by using a one-of-a-kind platform and wedge design. Additionally, we want to make it as soft as possible. It will alleviate any foot soreness that may occur from standing or walking for an extended period of time.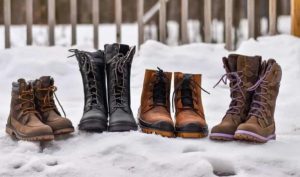 Elegant and Stylish: In addition to the advantages that we discussed before, our primary objective is to develop an elegant look for you and to impart some taste into your existing wardrobe. This sandal has a timeless and traditional appearance. The form of the round toe allows for the toes to be covered without creating any discomfort.
Suitable for a Variety of Occasions: Indoor and Outdoor Activities during the Chilly Winter, Daily Walking, parties, etc. Keep your outlooking active even when the weather is cold.
Great Gift for the Festival: These toasty Ankle Safety Boots would be perfect for her to receive as a present. Just in time for the holidays, including Christmas, Thanksgiving, New Year's, and Valentine's Day!
cowhide leather flat heel Safety boots
cowhide leather flat heel boots One of the forms of functional footwear designed specifically for ladies. Despite the fact that these women's shoes are best suited for the colder months, more and more people are opting to wear them to social events in recent years. It is essential that you wear appropriate footwear in order to shield your feet from the snow and rain that come with the arrival of winter.
Winter shoes are produced in three main types: Safety boots, ankle Safety boots, flat heel Safety boots. These three shoes are not significantly different from each other. But if we want to point out their difference, we should say that boots usually cover up to the ankle, boots up to the leg, and boots up to the knee and above the knee.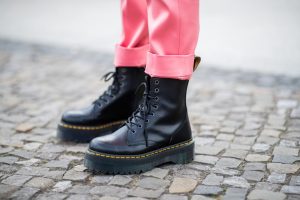 All three models of women's winter shoes are very popular, each model is suitable for wearing in different places. Half boots are one of the winter shoes that fans usually follow the sports style.
Women's flat heel Safety boots are produced in various designs and models. The difference between the models of this winter shoe is in its material, style, and use. Flat heel boots are usually made of leather, but nowadays they are produced in other materials such as cowhide and fur.
In terms of style, ankle Safety boots are designed and used in high heels, short heels, flat heels, sharp tips, round tips, and square tips. In terms of style, ankle boots usually create a sporty style for you, but if they are high-heeled and pointed, they are a very good choice for formal styles. The colors of this winter shoe are very diverse but black, brown, and honey colors are the most popular among all colors.
Skechers cowhide leather flat heel Safety boots
Skechers is a brand name of footwear that produce flat heel Safety boots made of cowhide leather also a producer of utility boots and skate shoes, the company is today perhaps best recognized for its athletic footwear, which may at times even be comfy.
Skechers was first established in 1992 and soon rose to prominence with the help of advertising and endorsements from famous people. The memory foam sole that is utilized in Skechers footwear is one of the brand's distinguishing characteristics.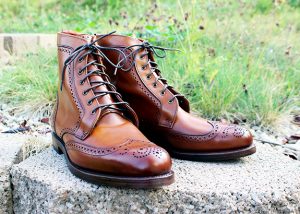 Skecher's shoes, in general, are highly comfortable and also take good care of the wearer's feet. They provide a cushion for the feet thanks to the memory foam sole that they have. In addition to that, they are flexible and breathable.
Memory foam is a material that responds differently to different temperatures and pressures. This technology enables the memory foam to form itself to the contours of the foot, which results in increased levels of comfort.
The soles of Skechers shoes are constructed with a layer of memory foam, which provides additional cushioning and makes the shoes very pleasant to wear. Make sure that every one of the aforementioned qualities is present. Original Skechers shoes are available, while non-original or counterfeit Skechers shoes may not cover the same characteristics as the originals.
vintage cowhide leather Safety boots
When you put on a pair of Vintage Cowhide Leather Safety Boots, not only will you feel comfortable, but you will also look elegant. These Safety boots are designed just for the refined and fashionable gentlemen.
Description
This vintage cow leather design is for you if you are a real genuine leather admirer who has a traditional spirit and great taste. If this describes you, then this design is for you.
Specification:
Specifications of the Item:
The Upper was constructed out of real leather.
Upper—100% Authentic Leather Cow Leather is the Type
There is no lining material.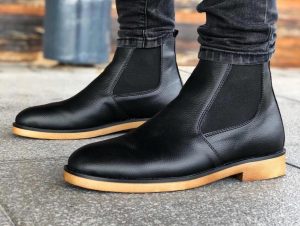 Insole Material: Pigskin
Genuine cowhide leather was used for the Shaft's Construction.
Shaft made of authentic leather Cow Leather is the Type
Outsole Material: Rubber
Closure Type: Lace-up
Boot Height: Ankle
Heel Height: Flat (≤1cm)
Sewing as a Constituent Part of Fashion
I have high hopes that anybody who takes the time to read this article will find it to be informative.