The trade of industrial safety shoes is very widespread in Iran today. In many large Iranian companies and factories, such shoes are widely exported. Industrial safety shoe trading is one of the most profitable jobs in the shoe business category. Many large Iranian merchants deal in these shoes. In fact, safety shoe dealers are aware of all safety issues and are very cautious in exporting this product.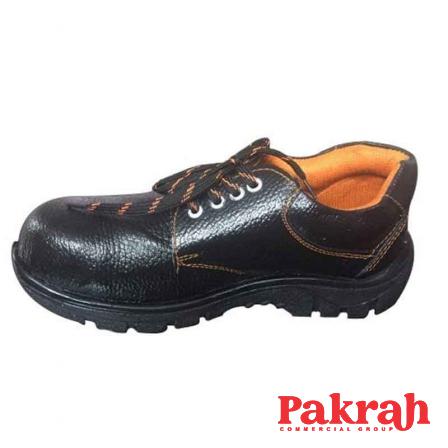 Essential Reason That You Should Wear Safety Shoes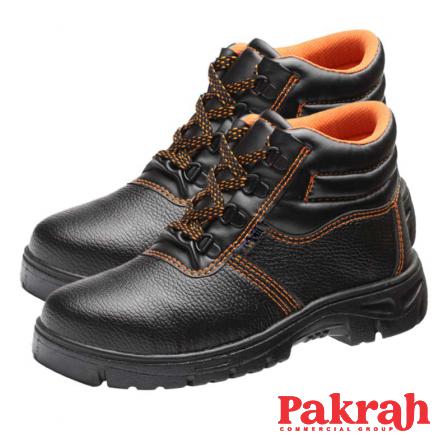 The main reason for wearing safety shoes is that it protects the feet from any possible injuries. For example, for those who work in dangerous spaces and there is a high risk of injury to the feet, these shoes are very suitable. For example, those who work with electricity or those who work in very hot places. These shoes can be a great option for them. Falling objects is also a common hazard in the workshop environment. Workers carry some heavy objects or in some environments many people work with machines and vehicles. Protective shoes such as safety boots can effectively prevent collisions with objects and foot injuries. Safety shoes are used for all tasks that require foot protection. From the kitchen to the construction, warehousing and factory work, safety boots or comfortable safety shoes are essential. women's safety shoes, different safety shoes are made for different conditions. Depending on the conditions created for them, all safety shoes are graded according to certain criteria. Most safety shoes can be easily identified by special markings on them. The following is a set of European standard symbols and classifications used to grade safety shoes, the first part of each subsection and the second part specifies its safety factor. Proper safety boots can help prevent serious burns, especially if you work in an environment that contains molten metals or chemicals and molten sprays.
How Should Be the Material of High Quality Safty Shoes?
Material of safety shoes is one of the most important features that natural leather is usually used in making safety shoes, because they do not rot and in addition to greater safety, they also have a longer life and durability. Insoles are made of materials that have large molecules and their repetitive structure is connected by chemical bonds. There is also a fabric in the sole of the work safety shoes that covers the inner surface of the person's foot in direct contact with the lining. This liner also plays an important role in absorbing foot sweat. 1) TPU outsole: The insole structure of this safety shoe is made of TPU and polyurethane and is injected in two densities which have a very high strength and do not wear easily. The design of this sole and shoe sole is well done and prevents the user from slipping while working. Most TPU boots of different brands are produced in the form of short and long legs and its external structure is in the form of synthetic leather. The toe of this shoe also has a steel layer that prevents damage to the toe and toes. TPU safety shoes weigh 1200 kg and have antibacterial properties due to long-term use as well as environmental and weather conditions. This type of shoe is marketed under the name of "TPU" model.
2) Rubber outsole shoes: Remember that if the specifications of your shoe box say rubber, it means that the shoe you are holding is made of rubber sole. The sole of rubber shoes is not breakable and wearable and also has a very high friction resistance. High-strength rubber soles have very good flexibility and this feature makes this type of outsole used in the manufacture of mountaineering shoes. While it has good resistance to water penetration, field results show us that this rubber outsole is a good shoe for high pressure. Safety shoes from rubber soles can be mentioned as a suitable material for safety shoes.
3) Leather soles: Leather shoes are the most suitable type of leather and are very durable and their care and maintenance is essential for wrinkles. Leather is also used in the production of safety shoes. Leather outsole safety shoes can be considered as a suitable safety shoe material.
4) PU shoes: Closed cell polyurethane foam is also one of the common foams in making shoes. Closed cell PU foam is suitable for making the soles of mountaineering and hiking shoes due to its high durability. In addition, high-density polyurethane closed cell foam is used to make a variety of women's shoes, including high heels. This type of foam has good resistance to pressure. It should be noted that this type of foam is also used in the production of shoe insoles. Pivo outsole safety shoes can be considered as a suitable safety shoe material.
5) polyester: Polyurethane is produced using a combination of polyol polyester. This type of outsole has waterproof properties and makes it ideal for use in ordinary shoes such as street shoes and sandals.
6) light safety shoes: A two-density shoe is a shoe whose sole is made with the help of raw materials which is done with 2 stages of injection, in which the first part of the sole is injected and the second time another part of the sole is injected.
4 Usage of Vintage Safty Shoes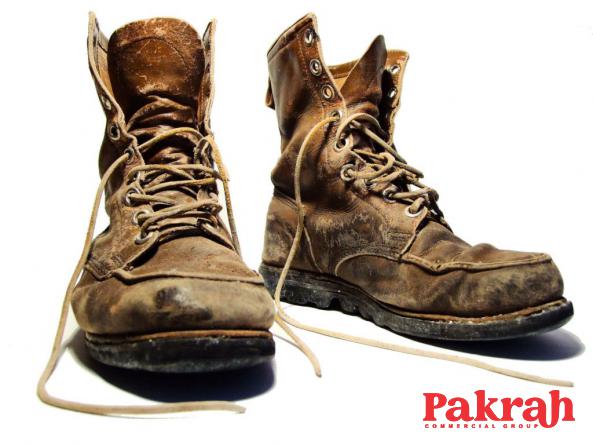 Safety shoes or work shoes are one of the most important equipments that are used to increase the safety factor, personal protection and prevent serious injuries in various environments, especially large production workshops, operational projects, electrical products and industrial equipment in the units. Small and large factories. Wearing safety shoes is very important and prevents serious problems in different parts of the foot, including the toes. According to reports from the occupational safety, health and safety unit, one of the most common injuries in the workplace is related to injuries caused by falling objects, crushing, fractures, burns, electric shocks and cuts in various parts. The foot is when working with hazardous equipment in industrial, manufacturing and civil environments. Therefore, it is very important to pay attention to the safety and protection of the feet, and the use of safety shoes ensures the health of the feet. One of the most important and common injuries in the workplace is the sudden fall of heavy objects, machinery, industrial equipment and injuries such as fractures, crushing and cuts on the legs. Therefore, the use of work shoes with proper design and in accordance with workplace safety standards, greatly reduces the risks and injuries caused by falling heavy objects and will play an important role in increasing the safety factor.
5 Important Points to Choose Safty Shoes
We all know that the foot is the second heart of man and the most damage to the foot is due to not wearing proper work shoes or safety shoes. According to the HSE standard in hazardous work environments, employees are required to wear super safety shoes. A very important issue in choosing and buying work shoes can be the type of work you want to do. Because if you do not pay attention to this issue, you can not find and choose the right work shoes. Work shoes are usually not important to the general public. But for people who work in workshops and factories as well as with building materials and work with production and technical workshops, mines or any kind of work that is thrown with dangerous, heavy, winning and sharp materials. It is important and necessary and this is where the right work shoes are very important and you should be very careful in choosing the right shoes for your job. If the safety shoes you choose are not suitable for that job or profession or do not meet the required standards such as outsoles, soles and molds, they can not prevent possible injuries. Starting to work in such jobs requires appropriate and standard safety equipment, including work shoes. In fact, it is only by having these equipments and accessories that one can largely avoid the possibility of danger and injury to the person while doing work. For this reason, when buying safety shoes, you should be careful in choosing the appropriate and standard shoes. Because wearing any type of safety shoes can not prevent a high percentage of possible injuries if it is not suitable for the job or profession or does not meet the necessary standards such as soles, soles and molds. Occupational safety is non-negotiable. This is the most important aspect of a job. So choosing the right type of work shoes can save your toe or even your life. No one knows what will happen the next day or even the next hour at work. Therefore, the most important part of the foot that is placed inside the shoe are the toes. Therefore, you have to pay any cost to buy safety shoes! So the price of work shoes should be the last priority and in some cases it does not even matter to you.
Industrial Safety Shoes Producer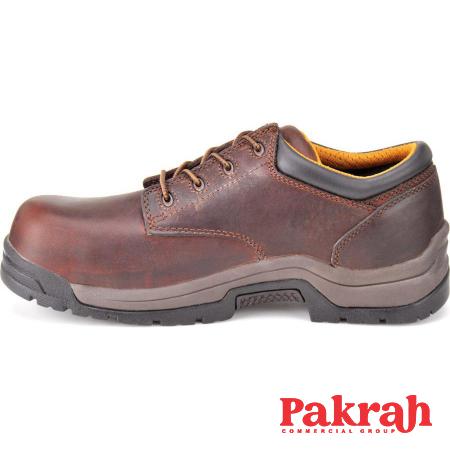 Manufacturer of industrial safety shoes in Iran are many leading factories and companies in the field of industry. These companies have been offering quality safety shoes at reasonable prices to their customers for many years. Manufacturers of such shoes have tried to market durable and flawless shoes so that all the dear craftsmen can use these types of shoes easily. Another issue is the reasonable price of these shoes that most companies and manufacturers try to offer these shoes to the market with discounts and reasonable prices for all sections of society. There are many manufacturers of safety shoes in Iran and all of these items can be easily provided both in person and in absentia. Today, manufacturers of safety shoes are looking for high profits from their work, so they should offer quality shoes to the market so that buyers are satisfied with the shoes and the market of these manufacturers will flourish. There are many manufacturers in Iran that produce this type of shoes, which you can refer to the Internet sites to know the list of these manufacturers.
Industrial Safety Shoes at Best Price
You can buy industrial wide safety shoes at the best prices from many online stores without intermediaries and easily. These stores offer reasonable prices for buying safety shoes. Any craftsman with any income can easily get the shoes he wants from these stores. But in terms of stores and markets and in-person shopping, it can be said that you have to search a lot to find the shoes you want at the best price. This search may take a few days because it is difficult to travel and it can be very tedious. So the best option is to choose and buy safety shoes at reasonable prices from reputable online stores. You can easily find the list of reputable online stores from internet sites. Finally, decide which shoes to choose easily. The price of safety shoes is not a fixed amount and depends on various factors. For information on the price of this type of shoe, you can also contact many stores or refer to the sales section of the stores website. Many stores are trying to offer buyers a reasonable price to sell these types of shoes. Among the most important factors affecting the price of safety shoes are: type, model, brand, decorations used and quality. Contrary to the function of safety shoes, its price is very reasonable. Choosing the right safety shoes can prevent many physical and muscular problems. Especially if you are someone who is out of the house for a long time and wears shoes, be sure to buy quality shoes. The foot is considered the backbone of the body, so equipment that can provide complete safety when walking should be a priority. In addition to special benefits, safety shoes also have a long life. With long-term use of these shoes, the cost of buying them will be reimbursed over time.
Industrial Safety Shoes Exportation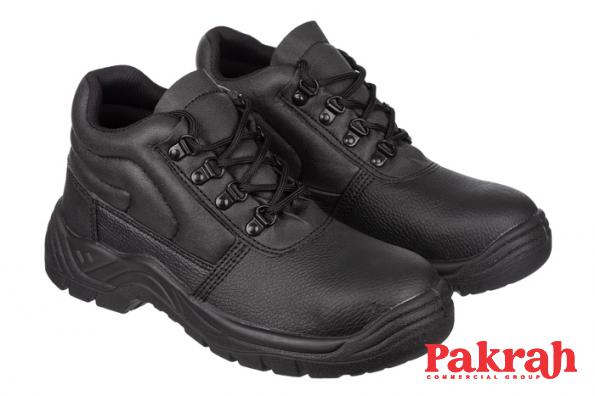 The export of industrial types of safety shoes has become very popular today, especially the export of safety shoes to neighboring countries of Iran and European countries, which is very prosperous, because the safety shoes produced in our country are of very high quality. This type of shoes has many fans abroad. Exporting safety shoes abroad has caused a lot of profits to our beloved country. Many companies and factories make good profits by exporting these products. Exports play a key role in producing more of these high quality products. The export of safety shoes also increases the liquidity of domestic factories.